James Bond 007 Movies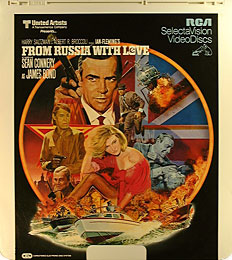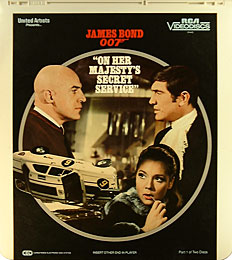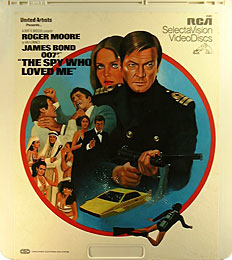 This featured CED actually covers 21 releases on RCA VideoDisc - the fifteen James Bond movies available in this format. The discrepancy between the number of releases and the number of movies is accounted for by six 007 movies being released twice during the format's five years on the market. It lasted just long enough for Roger Moore's last 007 movie, A View to a Kill, to be released. So all the Sean Connery and Roger Moore Bond movies are available on CED, as well the solo effort by George Lazenby. The one "Bond" movie that could be on CED, but isn't, is Casino Royale - a spoof of James Bond having little in common with author Ian Fleming or long-time 007 producers Albert R. Broccoli and Harry Saltzman. Some Bond aficionados also do not consider Never Say Never Again to be a true Bond movie, as it's basically a remake of Thunderball outside the Broccoli production umbrella, but it does star Sean Connery and is covered on this page.
The top of this page shows the VideoDisc caddies of what I feel are the best Bond movies by each of the three CED actors. Of course in the case of George Lazenby, I had only one choice, but I believe On Her Majesty's Secret Service is one of the best Bond movies, adhering closely to the Ian Fleming novel. The one Bond movie that adheres to Fleming closer than any other is From Russia With Love - Sean Connery's second outing as Bond. The Roger Moore movie The Spy Who Loved Me is perhaps his least flippant portrayal of Bond, and the movie represents to some degree a return to the From Russia With Love tradition.
The three CED caddies shown also happen to contain original artwork by RCA's Creative Services department not seen on any other video release of these movies, and show several scenes from each movie. During the early years of the CED system, RCA was well-known for commissioning original artwork, but later on, both RCA and CBS had the less expensive habit of using stock cover art or a photograph from the movie. The large format of the CED caddy is particularly well-emphasized by these three VideoDisc titles, as it would not be possible to provide as much detail on a DVD keep case.
The remainder of this CED feature is devoted to James Bond trivia, providing hundreds of movie thumbnail images that when clicked open up into larger images with trivia details. The larger images also provide elapsed playback time for the scene shown, the time applying to the RCA release for those titles issued twice. Test your knowledge of Bond trivia by trying to guess who or what is shown in each thumbnail before clicking it. Originally I only intended to do Gadget trivia, but while working on this feature, the categories James Bond 007, Bond Girls, Allies, Villains, Vehicles, Locales, Titles, and Finales were also added. I'll be adding the James Bond movies to this page in order, so look for it to contain all fifteen of them when I'm done.
If you don't want to wait for the thumbnail images to fully download, click on any one of them to open up a new window from which the full-size images can be viewed slide show fashion, or click here to start the slide show with the very first image. You can navigate the slides in chronological order with the links just above each image, or navigate them by trivia category with the links at the bottom of each page.
James Bond 007
Bond Girls
Allies
Villains
Gadgets
Vehicles
Cool Sets
Locales
Titles
Finales
James Bond Movies on CED VideoDisc

Title

Year

Dr. No [CBS]
1962
Dr. No [RCA]
1962
From Russia With Love [CBS]
1963
From Russia With Love [RCA]
1963
Goldfinger
1964
Thunderball [RCA, Two Disc Movie]
1965
You Only Live Twice [RCA]
1967
You Only Live Twice [CBS, Surround Sound]
1967
On Her Majesty's Secret Service [RCA, Two Disc Movie]
1969
Diamonds Are Forever [CBS]
1971
Diamonds Are Forever [RCA]
1971
Live and Let Die [RCA]
1973
Man With the Golden Gun, The [CBS]
1974
Man With the Golden Gun, The [RCA]
1974
Spy Who Loved Me, The
1977
Moonraker [RCA, Dolby Surround, Two Disc Movie]
1979
For Your Eyes Only [CBS, Dolby Surround, Two Disc Movie]
1981
For Your Eyes Only [RCA, Dolby Surround, Two Disc Movie]
1981
Octopussy [CBS, Dolby Surround, Two Disc Movie]
1983
Never Say Never Again [Warner, Dolby Surround, Two Disc Movie
1983
View to a Kill, A [CBS, Dolby Surround, Two Disc Movie]
1985
---