Firesign Theatre Hot Shorts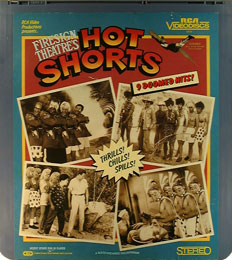 This CED is a spoof of the classic Saturday Matinee cliffhanger serials by the Firesign Theatre comedy group. This comedy team composed of Phil Austin, Peter Bergman, and Philip Proctor took shortened versions of the original serials and turned them into comedies by superimposing voice overs and sound effects. The front cover of the CED shows scenes from four of the represented serials with the three members of the Firesign Theatre troupe pasted into each image. The lower left illustration shows the team flanking the incomparable Irish McCalla who earlier had starred in the 1950's Sheena TV series.
This is a somewhat rare CED, and one of the more collectible titles, but it is not a CED exclusive. Some collectors have been led to that conclusion because the work is an RCA Video Production. The disc consists of nine shorts representing well-known and obscure black & white serials from the 1930's, 40's and 50's. The following table lists the original titles of the nine serials represented, with links to their entries in the Internet Movie Database.
---