The Poseidon Adventure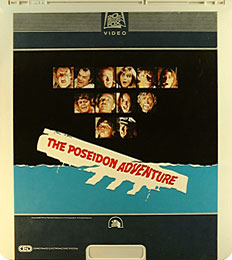 This featured CED was chosen to coincide with the release of the big-screen remake of the movie, simply titled Poseidon. There was also a rather poorly reviewed TV remake last year that had the ship capsizing due to a terrorist bombing rather than a tidal wave (or more accurately tsunami). And don't forget 1979's Beyond the Poseidon Adventure, basically a continuance of the original movie, that could have come out on CED but was never released.
Disaster films are fairly well-represented in the CED format, as this was a popular genre both prior to and during the CED era. Of these, The Poseidon Adventure is easily the best-known and is indeed responsible for many of the disaster movies that followed it. The table further down this page lists all the disaster flicks (due to human or natural causes) that were released on RCA VideoDisc.
"The Poseidon Adventure" is also notable for its cult status, with a following that to some degree rivals Trekkies. There was a documentary made on the movie's cult following in 2003, and there was even a musical version of the movie produced in 2002 on its 30th anniversary. Check the links section at the bottom of this page for some additional resources.
There are several parallels between this Featured CED and another one I did way back in April 1998, Raise the Titanic:
Both caddies have the characteristic 20th Century Fox label design
Both movies revolve around a luxury passenger ship that was lost at sea
They both demonstrate the advantages of the large label art afforded by the CED caddy
To illustrate that last point, take a look at the following picture of the main cast members reproduced approximately life size from the caddy label (depending on the resolution your display is set at). The characters are all easily identifiable, which would be somewhat difficult if the same artwork appeared on the cover of a DVD. For a bit of Poseidon Adventure trivia, see if you can pick out the two characters in the illustration who were not members of the party seeking to escape the capsized ship, and also pick out the ones who make it out of the boat alive.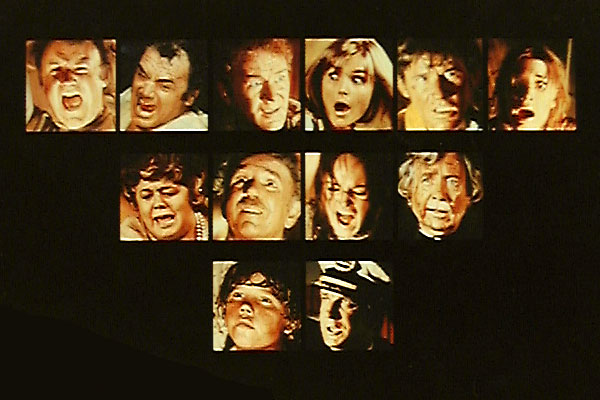 ---